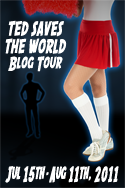 Today on Bitten Books we have a guest post and giveaway courtesy of Bryan Cohen as part of his blog tour for Ted Saves the World.
A Social Geekaholic
By Bryan Cohen
My 10 year high school reunion is coming up in November. There's nothing like a reunion to make you think about how you were classified back during those awkward adolescent days. While I participated in sports like soccer and wrestling, enrolled in honors classes, and was a generally personable guy, the best way to group the person I was in high school is as a geek.
I was involved in all sorts of geeky activities in high school. I stormed bad guys in multiplayer Diablo and Baldur's Gate. I watched my friend play through all of Final Fantasy III on Super Nintendo and then played through it on my own. I put together a deck for the game Magic the Gathering and took on my friends' decks in their basement. The fact that I had friends involved in all of this is key though.
While I did a few geeky things on my own, more often than not these geeky activities were social in nature. When I went to see all three special edition's of the Star Wars original trilogy, I never went alone, I went with a group of my closest friends. The fantasy movies I saw like "Excalibur," "Legend," "Willow," and "Krull" weren't guilty pleasures shared by me alone, I watched these types of flicks every week with my geeky pals.
Hell, I would even call my buddies during the commercial breaks of "Buffy the Vampire Slayer" to comment on the awesome happenings in the previous seven or eight minutes.
Now that I've written my own fiction book,
Ted Saves the World
, that I think could be enjoyed by both geeks and regular people alike, I can't help but hope that the book can bring people together. That's one of the things I appreciate the most about authors like Amanda Hocking and J.K. Rowling. They have created worlds that have brought people together. It gives the geeks something to talk about and something to share.
When I walk into my reunion, I will be proud to walk in with my head held high, flanked by my fellow geek brethren. Maybe we can even get a game of Magic going.
--
Giveaway:
Bryan Cohen is giving away four $25 Amazon gift cards, one for each week of his month long blog tour. To enter, simply comment with your e-mail address (feel free to substitute @ with (at) or other tricks to stop spammers from getting it). Bryan will draw the four names at the end of the tour, picking one entrant at random from each week's set of blog posts. Entries will be counted through Monday, August 15th, 2011. Enter on as many sites as you want, follow the tour at
Build Creative Writing Ideas
. If
Ted
reaches the Top 100 on Amazon at any point during the tour, a fifth $25 card will be added to the giveaway.
Description of Ted Saves the World (Available for just $0.99):
A possessed cheerleader. A cursed gang of criminals. Mysterious telekinetic powers. An angry ex-girlfriend in gym class? One second, sophomore in high school Ted endures his first breakup in his favorite place in town. The next, a mysterious blue light turns him into a worldwide superhero sensation for taking down a posse of grisly murderers. As his views on YouTube increase and his friend Dhiraj tries to capitalize on the marketing potential, his dangers increase as well when a presumed-dead cheerleader begins taking a personal interest. Can Ted survive his first week as a superhero in the public eye? This novella is the first taste in a series of full-length novels about the adventures of Ted Finley and Erica LaPlante. The book is also available on
Barnes & Noble
and
Smashwords
for $0.99.
Biography:
Bryan Cohen is a writer, actor and comedian from Dresher, Pennsylvania. He graduated from the University of North Carolina at Chapel Hill in 2005 with degrees in English and Dramatic Art and a minor in Creative Writing. He has written seven books including
1,000 Creative Writing Prompts: Ideas for Blogs, Scripts, Stories and More
. Contact Bryan through
his Ted Saves the World blog
,
his Build Creative Writing Ideas site
or
Twitter
.